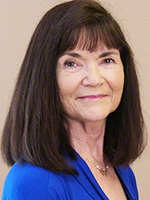 Voice: 714-257-1357
At the present time Juanita is not accepting new clients.
Welcome to my counseling practice.
I am a licensed Mental Health Clinical Nurse Specialist with over thirty years of experience in private practice. I graduated from California State University at Sacramento with a Bachelor's degree in Nursing and from the University of Wisconsin Madison with a Master's degree in Psychiatric Mental Health Nursing. I am also a Certified Life Coach specializing in spiritual issues.
My work is shaped by the rich experience of walking alongside others in their healing journeys—witnessing life-changing growth and recovery in many individuals, couples and families.
My work is also shaped by my personal experiences of healing and recovery from childhood trauma, from codependency and from distorted images of myself and of God.
My goal in my work is to create a safe and compassionate place in which people can explore their lives, share their stories, acknowledge their losses and traumas, face their fears, let go of their defensiveness and destructive patterns and find the freedom to love deeply and to pursue their hopes and dreams.
If you are in need of compassionate, experienced professional help, feel free to leave me a voice message at 714-257-1357, send me an email at juanita@juanitaryan.com or submit the form below: